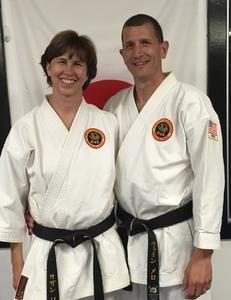 Shihan Mike is a police officer of over 20 years, a certified EMT, and holds a Master's Degree in Criminal Justice from Fitchburg State College.
He began his training in Shotokan Karate in 1988 at the University of Massachusetts at Amherst. After college he became a student of Shihan Wayne Mello. He is now Shihan's highest ranking student at 6th degree black belt (Rokudan). Along the way he has also trained in Aikido and full contact kickboxing.
Shihan has competed in both the Amateur and Professional Karate Leagues, and was ranked both regionally and nationally in forms, fighting, and weapons. He was also inducted into the PKL Hall of Fame. On the IPPONE circuit, he has won numerous tournament grand championships in black belt kata, weapons, and fighting as well as winning Black Belt Weapons Competitor of the Year.
As a Team
Both are certified instructors in RAD Systems for Women's Self-Defense and radKIDS Personal Safety and Self-Empowerment, and have taught hundreds of classes over the past 15 years. They have become of great importance to them, as they focus on empowering women and children in their own safety. Most importantly, they are proud parents of 2 strong young girls who have attained the rank of junior black belt.