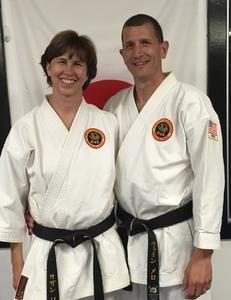 Renshi Sue is a licensed Physical Therapist and a Certified Strength and Conditioning Specialist. She holds her Master's of Science in Physical Therapy from the University of Rhode Island.
She began her martial arts career in 1994 with Shihan Wayne Mello. In January 1998, she became the first woman to climb the entire ranking system and achieve a black belt with Shihan Mello. She is now a Godan (5th degree), and the highest-ranking female in AIKA.
She has been competing on the IPPONE tournament circuit since 1994 and has multiple awards including black belt triple crown winner. She also has competed at the Ozawa Cup International Karate Tournament and has 1st place finishes in both Black Belt Women's Kata and Kumite. She has continued to compete and in January 2000 was inducted into the IPPONE Hall of Fame.
Renshi also trained in full contact kickboxing, and in 1999 retired as the NSKBA Women's Light Weight State Champion.
As a Team
Both are certified instructors in RAD Systems for Women's Self-Defense and radKIDS Personal Safety and Self-Empowerment, and have taught hundreds of classes over the past 15 years. They have become of great importance to them, as they focus on empowering women and children in their own safety. Most importantly, they are proud parents of 2 strong young girls who have attained the rank of junior black belt.